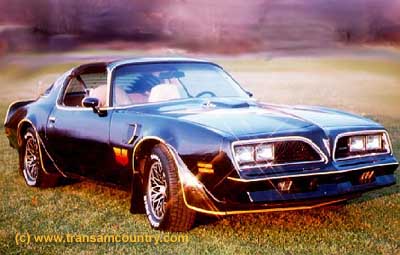 1977 Y82 SE "Fire Am" Trans Am owned by Mike Kozar
Mike ordered this beautiful TA brand new and took delivery of it in May of 1977. I'm sure the SE "Fire Am" has some of you scratching your heads, but it's for real. Mike wrote
"By 1981, the paint finish was aging prematurely, so I decided to have the TA repainted. I had read several articles about Herb Adams' Fire Am, and decided to go with the looks and modifications of this special TA. even though I already had a rare bird. Modifications are mainly handling oriented, beginning with larger front and rear sway bars with special connecting links. Along with this went a suspension lowering kit that lowers the vehicle all around, but especially in the front to give a more "raked" look. These changes were complimented with poly bushings all over, which gives a squeaky, stiff ride, but the handling is just awesome. Other changes include re-jetting the stock carb, and special weights for the distributor advance. A true dual exhaust helps add some more HP.
The exterior is a black lacquer paint. Also painted on is all the striping and hood scoop printing, in canary yellow. It really stands out against the black. The hood emblem, the "bionic firebird" is also painted on! The only decals are the reflective fire am decals on the front fenders and sail panels. All of this is clear coate"
Now that's one awesome Bandit!