In the mid 70's increased emissions regulations and rising gas prices put the squeeze on automakers. This squeeze led to smaller engines and less performance. The fall of the performance era opened up a new market for the aftermarket industry. Companies like VSE, DKM and Motion Performance were able to give the die-hard performance customers what automakers could not. The packages that were created gave customers a wide variety of choices to either increase handling, increase performance or both.
These aftermarket companies gave us the ultimate and feared street machines of their day. Now twenty plus years later they have become some of the most sought after and rarest of all second generation Firebird models.
Here is a brief overview of what these aftermarket companies produced.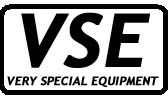 During the late 60's Pontiac had the best of the best on its payroll. Each auto manufacturer was obsessed with having more and better cars then the next company. One of the engineers Pontiac had on staff was Herb Adams. He worked on many projects with Pontiac like the Super Duty 455 and Ram Air V programs, but is most well known for his work on the second generation Firebird suspension.
After some years Herb broke away from Pontiac and formed his own company VSE or Very Special Equipment. This new company was all about performance and handling. Pontiac, seeing that Herb was still indispensable contracted with VSE to evolve the Firebird suspension. In 1977 eight highly modified Trans Ams were built for Pontiac in a bid to start a new IROC racing series for the Firebird line. Pontiac was unsuccessful in their bid, but those eight Trans Ams would shape the Firebird suspension for the next 25 years. The suspension modifications found on the eight Trans Ams would soon become the WS6 performance package. Herb who was also a avid racer and race car builder saw even more potential in the Firebird and continued the evolution on both the performance and handling platform. From this came the
. The modifications that resulted from Herb's development would include items like a new aggressive graphics, 180 degree headers, dry sump lubrication system, rear wheel disc brakes, racing seats, Holley carburetors, larger sway bars and much, much more. VSE offered different stages of modifications allowing customers to create as race ready a Trans Am as they desired. In 1979 Herb wanted to prove the drivability and performance of the Fire-Am by entering the Daytona 24-hour race. To prove the Fire-Am's drivability Herb drove the car he was going to race from Detroit to Florida. Unfortunately the Fire-Am only lasted 18 of the 24 hours, but was in 19th place out of 40+ cars with an average speed of 155mph before the harmonic balancer broke and ended the race for him.