Welcome to the Become a Sponsor information page. If you are interested in becoming a TAC sponsor let me take this time to explain why advertising on TAC is a great investment for your business or service. TAC has been the largest 2nd generation online forum for over 10 years! That means you can reach your entire market by becoming a sponsor. We also have one of the few online communities that are family friendly. YES, it is kid friendly…in fact my son visits the forum! That means you can reach the current market and the customers of the future.
What does a TAC sponsor give you? Increased visibility. TAC averages close to 6 million hits a month.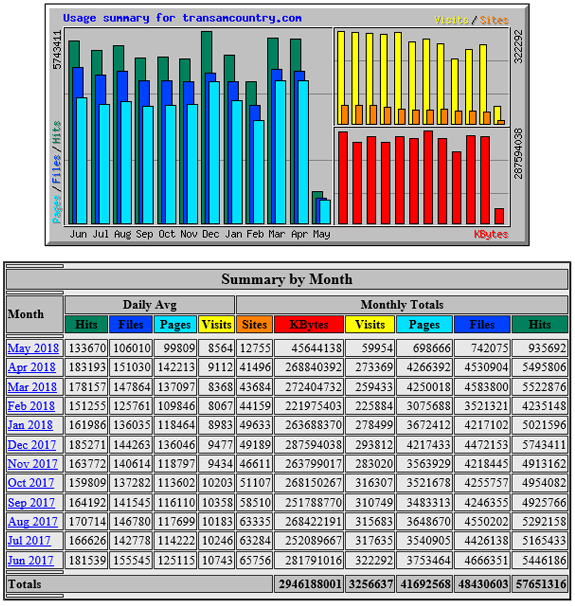 Please note the above graph is taken from May 7th, so May 2018 does not reflect traffic for that whole month.
What does a TAC sponsorship include? Your company will be given banner placement within the ad rotation on the main site and placed within a banner group in the forum, as well as a permanant banner on the sponsors link page. Before you question being added to a rotation list here are some stats to ease your concerns. TAC's main resource to the community is the forum. Each month the the forum page(s) are loaded over 1,000,000 times.  TAC has several banner areas, so your banner(s) are being seen almost every 1-3 views.  Sponsors with multiple banners have their banners split into different banner groups for optimal coverage.  That means your banner could be viewed twice as much or be shown multiple times during the same view. Click Here to see a high level view of the TAC forum and the three rotation areas.
As an added bonus to your sponsorship we can create a sub-forum for your business if you would like to run specials and answer questions about your products.
What does a sponsorship cost? There are four sponsorships to choose from. The "forum classifieds" group costs $50 a year.  The 400 x 60 banner group costs $100 a year, while the 400 x 150 banner group cost $200 a year and the 800 x 150 banner group costs $300 a year. I've seen some other sites that charge $100 a month. That does not mean TAC is less of a value for you. Unlike other sites I am my own web host and don't have astronomical monthly expenses. I could be greedy, but that isn't what TAC is about!
Why have four sponsorship groups? That's easy, to give businesses large and small the opportunity to be apart of the TAC website. That does not mean a small business cannot buy the bigger banner group, it simply gives everyone a choice.
---

A forum classifieds sponsor can only post sale items in the Classifieds portion of the TAC forum.
---
The 400 x 60 is the smallest banner size. A banner of this size will be grouped with at least 3 other like sized banners or one other like sized banner and one medium banner. Within the forum a rotation includes 4 banners displayed at the same time.
Here is an example of the 400 x 60 banner



Please note that banner groups are put together with non-competitive advertising in mind. That just means if sponsor 1 sells lugnuts and sponsor 8 sells lugnuts they will not be in the same banner group. Banner grouping has been well received by the sponsors and by the community. Still some sponsors have inquired about having more presence on the site.
The 400 x 150 is the medium banner size. A banner of this size will be grouped with at least one other banner of like size or two smaller banners.
---
Here is an example of the 400 x 150 banner


The 800 x 150 is the large banner size. When a sponsor wants the full attention of a site visitor this will do it. The banner will display in the rotation by itself.
---
Here is an example of the 800 x 150 banner in the forum rotation layout (because of the site template limatation the of this example has been resized)


Please use the Contact TAC page if you are interested in becoming a sponsor or you have a question not answered on this page.